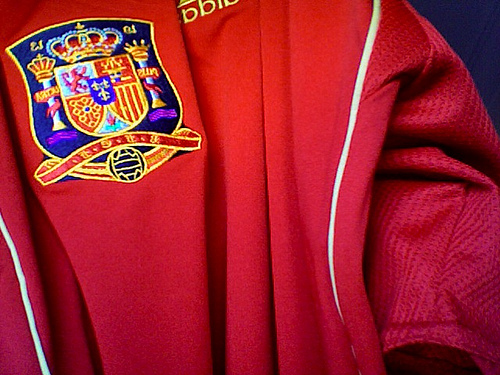 Siente tu alma si quieres ganar,
cada segundo será una verdad,
solo confía en ti.
Tu Oportunidad, Taxi.
---
If it can be lost then it can be won, if it can be touched then it can be turned
All you need is time.
Pioneers, Bloc Party.
---
Spanish bombs; yo te quiero infinito.
Spanish Bombs, The Clash.
---
Raise your flag! (Higher, higher!)

Declare independence!
Don't let them do that to you!
Declare Independence, Björk.
---
You can blow with this
Or you can blow with that
Weapon of Choice, Fatboy Slim.
---
There goes my hero
Watch him as he goes
There goes my hero
He's ordinary
My Hero, Foo Fighters.
---
It's a beautiful day
Don't let it get away
It's a beautiful day

Touch me
Take me to that other place
Teach me
I know I'm not a hopeless case
Beautiful Day, U2.
---
There is a fire in me
Fire that burns
Fire that burns

This fire is out of control
I'm going to burn this city
Burn this city.
This Fire, Franz Ferdinand.
---
They rally round tha family
With a pocket full of shells
Bulls on Parade, Rage Against the Machine.
---
Well I, believe, it all, is coming to an end
oh well, I guess, we're gonna pretend,
let's see how far we've come
let's see how far we've come
How far we've come, Matchbox 20.
---
You´re gonna win it for yourself and us today
It is the gold, the green, the yellow and the grey
The red and sweat and tears, the love you go. Hey!
Força, Nelly Furtado.
---
No one's gonna take me alive,
The time has come to make things right,
You and I must fight for our rights,
You and I must fight to survive.
Knights of Cydonia, Muse.
A por ellos... vamos a ganar ... por nosotros y por vosotros... por todos... podemos!!!
Carlos.